The DEW Consultants Business Model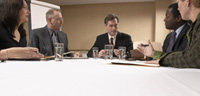 The DEW Consultants business model is a collaborative one.  The first and most important area of collaboration is with our customers.  We work with individuals, as well as businesses of varying sizes, to first identify and define what it is they desire to achieve.  In today's fast moving and complex society, I have found that the long-term, personal satisfaction I derive each day comes simply from listening to others and gently helping them begin to clarify what they really want.  Once we clarify what we want the million-dollar question becomes how do we achieve it? 
The DEW Consultants Business Model collaborates with our customers to first define the areas of opportunity, and desired outcomes.  We then use coaching, mentoring, facilitation, or consulting skills, to collaborate on an action plan, and process to assure attainment of the desired outcome. 
We collaborate with a wide range of Business Partners and Associates who each have areas of expertise across the key functional areas of business.

Strategic Planning
Sales and Marketing
Finance
Operations
Human Resources
Career Development

If our Vision, Mission and Business Model appeal to you, we invite you to contact us.  After a free no obligation consultation, together, we will candidly decide if we can be of value to each other.  We work with each customer to carefully frame and define, the goals, objectives, timeframe, outcomes and measurements that will define your success.